Why Do We Have Baby Teeth?
Posted on February 27th, 2022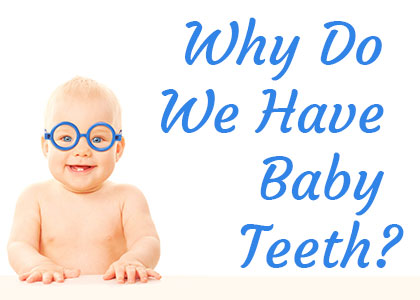 Baby teeth, also called deciduous, primary, milk, or lacteal teeth, have many different purposes. Dr. Ryan Whalen at Whalen Dentistry is asked the purpose of baby teeth often. So what's the answer?
Tiny Teeth for Tiny Mouths
Child-sized mouths are not large enough to accommodate a full set of adult teeth, so the primary teeth become placeholders in the jaw, saving spaces for adult teeth to grow in as they begin to surface from under the gums. Baby teeth usually begin to erupt around 6 months of age, but may begin forming in the womb even before birth!
By the age of 3 years, children should have all 20 of their baby teeth, which remain in the mouth for the bulk of childhood—roughly 8-10 years. The presence of baby teeth allows children to eat solid foods and helps as they learn to speak clearly and quickly. 
They Grow Up So Fast
The first adult tooth erupts where the baby teeth have been lost around 6 years of age. By age 13, all permanent adult teeth—except wisdom teeth which tend to emerge between the ages of 17 and 21 years—will have taken up residence in the mouth.
Baby teeth are even more prone to cavities than adult teeth because small children lack the dexterity and knowledge to properly care for them. Statistics estimate that more than 50% of kids will be affected by tooth decay before the age of five years. So baby teeth can be very useful tools to educate kids about the importance of good oral hygiene. Premature baby tooth loss can allow permanent teeth to shift into available space in the jaw, causing improper placement and causing further dental problems down the road. 
Poor dental hygiene in childhood can lead to difficulty speaking and eating, infection, pain, and can affect their overall appearance and self-esteem. Baby teeth will be gone for good by age 12 or 13, but good dental hygiene habits formed in childhood will last a lifetime. 
If you have any questions about your child's baby teeth or would like to schedule a hygiene appointment for your little one, please give us a call and schedule an appointment today!
The content of this blog is not intended to be a substitute for professional medical advice, diagnosis, or treatment. Always seek the advice of qualified health providers with questions you may have regarding medical conditions.