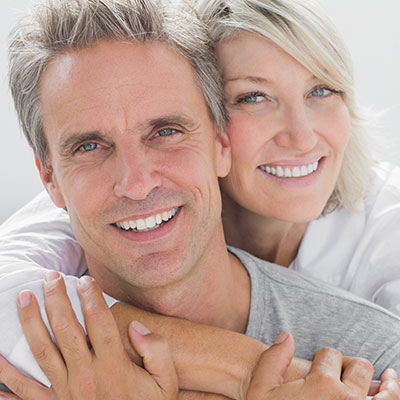 What are dental implants?
Dental implants are small titanium posts that are surgically inserted into the gums where teeth have gone missing. Implants are tooth root replacements that actually fuse with the jawbone, mimicking your natural tooth root and preventing bone deterioration. After a period of 3-6 months, once the implant has fused and the tissue has healed, you will be ready to be fitted for a fabricated tooth or full dental crown, or a new set of implant-supported dentures.
Mini Implants
If you're a patient who's been told by other dentists that your jawbone is not healthy or dense enough to support implants, we may have a solution for you with mini implants. Mini implants are great for patients who have suffered from jawbone deterioration due to missing teeth, gum disease, injury, cysts, infection, or extraction. Mini implants require less bone for implantation, so they're a great option for patients who are not able to support full implants.
All-On-4™
If you are a patient missing most or all of your natural teeth, or living with dentures that don't stay put, the All-On-4™ implant system might be a great option for you. With All-On-4™, we use the minimum number of implants (as few as four) to support the maximum number of teeth (a full arch).
What are the benefits?
There are many benefits to replacing missing teeth with dental implants:
Fill the gap in your smile
Prevent bone loss
Preserve oral health
Enjoy your favorite foods again
Function just like natural tooth roots
Speak, laugh, & smile with confidence!
Give us a call!
Take control of your oral health and replace missing teeth with the #1 recommended solution. If you have any questions about dental implants or would like to schedule a consultation with your Cornelius implant dentist – Dr. Ryan S. Whalen at Whalen Dentistry – give us a call today at (704) 621-4454 – New Patients or (704) 655-2292 – Current Patients.