Questions to Ask Before Special Needs Kids See the Dentist
Posted on August 27th, 2022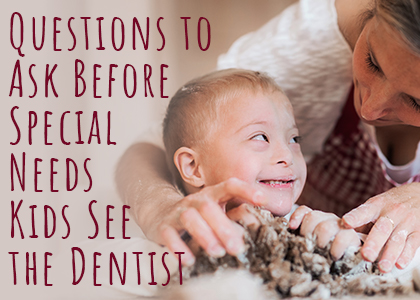 All children are unique individuals with personal preferences, but sometimes special needs kids have a higher level of anxiety in new situations like visiting the dentist. Dentists like Dr. Ryan Whalen realize treating special needs kids requires patience and understanding, and while most dentists who treat children are capable of accommodating a variety of special needs, there are a few questions parents might want to ask in advance.
Are the office and dental equipment accessible for kids with mobility issues?

Does the staff have experience treating other special needs patients?

Does the staff have any specialized clinical training?

What distraction techniques are available to reduce kids' anxiety?

If necessary, what is the typical game plan for sedation?

Are there any videos, brochures, books or websites that can be reviewed prior to the visit?

Is a pre-appointment available?
Even standard pediatric dentistry treatment can be very challenging for a special needs child (and their parents). The compassionate staff at Whalen Dentistry wants to provide your child with the most favorable dental experience possible. 
If you'd like to discuss treatment options for your special needs child with us or schedule a visit, get in touch with us, your Whalen Dentistry today. We'd love to meet you! 
The content of this blog is not intended to be a substitute for professional medical advice, diagnosis, or treatment. Always seek the advice of qualified health providers with questions you may have regarding medical conditions.