Prevention vs. Treatment of Oral Health
Posted on September 15th, 2023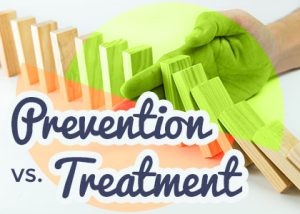 The World Health Organization defines health as "A state of complete physical, mental and social well-being and not merely the absence of disease or infirmity."
Sadly, in our fast-paced culture, many of us settle for less-than-healthy or even truly sick conditions every day. We allow ourselves to be tired, achy, stressed, and in pain more often than not. Why? Because it's hard to prioritize our long-term health in a world of so many immediate needs competing for our attention. But long-term health is actually the most important need of all. Without our health, we won't truly be able to enjoy life or contribute to the greater good.
Dr. Ryan S. Whalen offers a few points on how to seek wellness and prevent oral health problems before they even start.
Starting Upstream
It's easier to stop pollution from entering a stream in the first place than to try cleaning up the mess afterward. By starting upstream and taking your preventive health seriously, you will see immediate benefits and avoid potential problems down the road (or stream in this case). 
Did you know?
Nearly half of adults over age 30 have gum disease

1/4 children under age five already have a cavity

Between the years 2000-2010, dental emergencies grew from 1 to 2 million!
This doesn't have to be the case. As with most problems in life, you have a much better chance of fighting illness if you actually stop it before it starts. Most oral health prevention is so simple, you can start doing it today. Here's some advice straight from the oral health professionals at Whalen Dentistry:
Drinking public tap water with added

fluoride

is proven to aid oral health & prevent decay.

Brushing your teeth twice a day is essential for preventing cavities, tooth decay, and bad bacteria from building up in your mouth.

Flossing and rinsing once a day helps reach tiny tight places between teeth and gums.

A healthy diet low in sugar and snacks will prevent the worst kinds of bacteria and decay from taking root in your mouth.

Visiting the dentist twice a year for a professional cleaning and evaluation can prevent major health problems in your mouth and body.

Communicate with both your doctor and your Cornelius dentist about all of your health history as well as your personal health habits and goals.

Know your risk factors for tooth decay and poor health.

Research your options for making dental care more affordable so that you never have to miss another appointment again.
Dental Treatment
Of course, there is no shame if you do develop an oral health condition – we are all human after all. America has amazing dental professionals and treatments for everything from chronic bad breath to jaw tension and tooth alignment.

Look for signs of soreness, discoloration, swelling, or an off sense of taste and smell to detect a problem, and seek help immediately to keep it from getting any worse.
The Oral-Systemic Link
We guarantee that by keeping your mouth healthy, your entire body and soul will be healthier too. How can we guarantee such a thing? It's called the oral-systemic link. It's the principle and growing research that proves how connected your oral health is to overall health.
Dr. Bradley Bale (respected physician and renowned dental authority) says, "Periodontal disease is a medical disease with a dental solution." 
Everything from heart health to diabetes, to pancreatic and sleep issues, and inflammation can be linked to oral health. If you have any health concerns at all, it's worth addressing them with your dentist.
A little bit of preventive care today can save you a whole lot of pain (and money) in the future. Invest in yourself today because you deserve to feel great from top to bottom and inside out! 
Make an appointment at Whalen Dentistry in Cornelius today to prevent oral health problems before they start!
The content of this blog is not intended to be a substitute for professional medical advice, diagnosis, or treatment. Always seek the advice of qualified health providers with questions you may have regarding medical conditions.