Chocolate is Good for Oral Health – True or False?
Posted on October 27th, 2019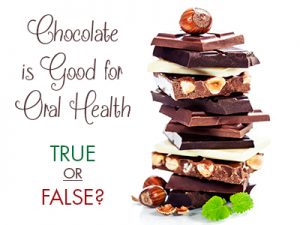 Most of us were taught when we were kids that sweets like chocolate will rot your teeth. While this may remain true for some types of our favorite sweet snack, that doesn't mean we have to take it off the menu altogether.
In fact, recent studies have found that dark chocolate, containing high percentages of cocoa, may actually be beneficial to your dental health. Cornelius dentist Dr. Ryan Whalen wants to give residents the facts so they can satisfy their sweet tooth safely.
How does it work?
Dark chocolate is known to contain high levels of antioxidants, which work with our bodies to fight bacteria and disease. Dark chocolate can contain up to four times the antioxidants found in green tea! High levels of antioxidants found in saliva have been proven to help fight periodontal (gum) disease and slow tooth decay.
What about the sugar?
Yes, chocolate does contain sugar, which is bad for your teeth. However, that is why we are recommending dark chocolate, which has lower amounts of sugar, and higher levels of cocoa (at least 70%). The high levels of antibacterial compounds found in dark chocolate actually counteract the effects of the sugars, making it a safe option for a sweet tooth. In fact, studies have found one of these compounds to be more effective in fighting cavities than fluoride!
Can I skip my nightly brushing if I have dark chocolate for dessert?
Absolutely…NOT! Even dark chocolate contains some sugar, and while some of its magical compounds help combat the effects of tooth decay, there is no substitute for regular brushing and flossing (at least twice per day) and regular checkups (every 6 months). Hopefully, however, we've helped rid readers of their fear, guilt, and aversion when it comes to chocolate and oral health. Chocolate lovers rejoice!
For more questions concerning your oral health and the effects of your favorite foods or beverages, please give us a call or stop by Whalen Dentistry. Dr. Whalen will be happy to talk to you.
The content of this blog is not intended to be a substitute for professional medical advice, diagnosis, or treatment. Always seek the advice of qualified health providers with questions you may have regarding medical conditions.
---
Whalen Dentistry
21025 CATAWBA AVE. SUITE 102
CORNELIUS, NC 28031
704.621.4454
https://goo.gl/maps/RStKLF6WsJr