In this Month's Newsletter:
October is Breast Cancer Awareness Month with Carolina Breast Friends
Pumpkin Spice Perfection
Dr. Whalen's Halloween Candy Line-Up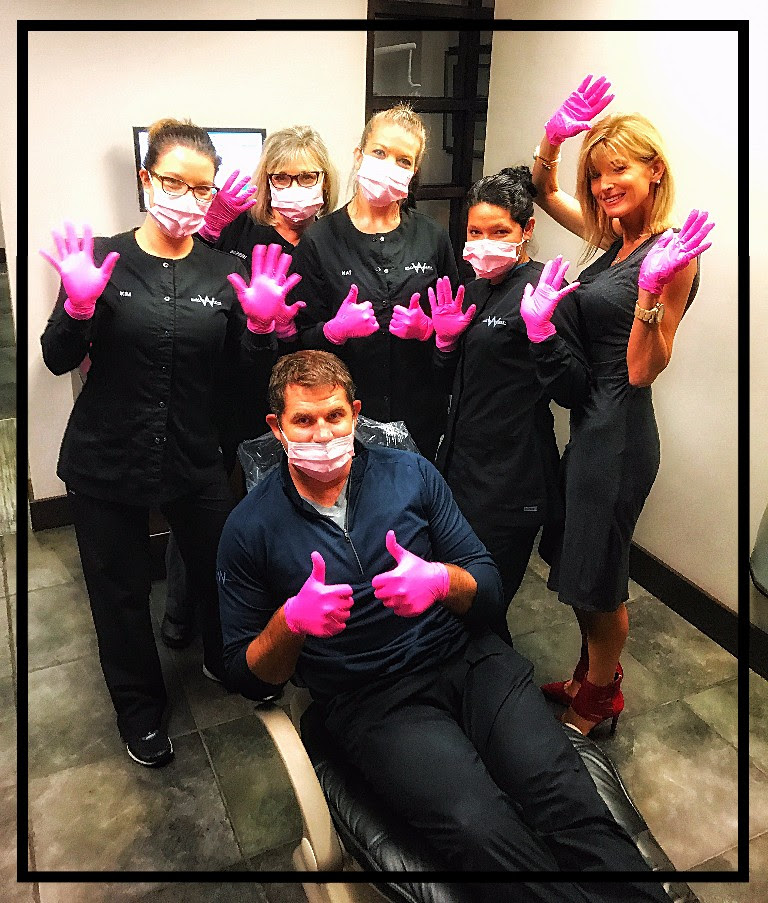 ---
Breast Cancer Awareness Month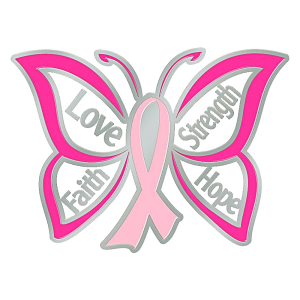 It's hard to believe October is already here! October is one of our favorite months-the weather is awesome, we're in the midst of college football, it's pumpkin season and Halloween, but it's also a chance to create awareness about a disease that impacts so many women. In support of Breast Cancer Awareness this month, we're launching our "Heart Someone" door. Patients and our team can write the name of a loved one impacted by breast cancer on one of our pink hearts (family member, friend, colleague, anyone!) and display it on our door. We'll honor them by making a $1 donation for each person that you "heart". We'll also have a donation jar at our front desk for patient donations that we'll match dollar for dollar. All proceeds will go to a local charity right here in Charlotte called Carolina Breast Friends.
---
Carolina Breast Friends (CBF) is a non-profit agency providing information, inspiration, and assistance to fellow breast cancer survivors in the metrolina Charlotte area.
They focus on supporting and empowering all who are affected by breast cancer. Their mission is to serve the community through education, encouragement, and friendship during all stages of the journey.All donations are used to support the CBF Pink House, a safe haven for survivors that provides mentors, wellness programming, and networking in a welcoming and positive environment. We are thrilled to work with this organization and support their cause. We hope you'll join us this month and start "hearting"!

---
Pumpkin Spice Perfection
From candles and coffee to peanut butter and protein bars, delicious pumpkin-flavored products might be our favorite part of fall! And according to a study there may actually be a real reason why we all love the delightful sweet flavor!
"The tantalizing smell can trigger an emotional response in the brain," says Catherine Franssen, assistant professor for psychology and director of the neurostudies minor at Longwood University in Virginia. "The spice blend has been used in popular baked goods for quite some time and it's very likely we would have encountered some or all of them in a favorite baked good in a comforting situation like a family gathering early in life. It's not the pumpkin spice necessarily but that we've already wired a subset of senses as 'good' very early in life."
After all, 80% of flavor is actually smell! Franssen, who wrote a 2015 blog post in the Huffington Post about the science behind pumpkin spice says, "In other words, smelling pumpkin spice in a favorite cereal or cookie could remind you of a pie baking at your grandmother's house."
Whatever the case is we love pumpkin spice and everything nice that goes along with it!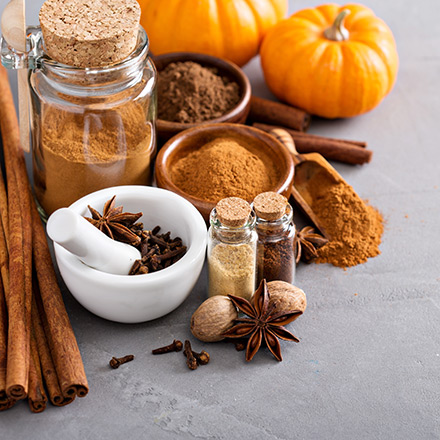 ---

Candles: Local option: Fresh Market in Cornelius-Root Candles Pumpkin Spice Nest Candles– Pumpkin Chai candle
Coffee: Local option: Madalyn's Coffee in Cornelius-Pumpkin Spice Latte and NEW Maple Spice Latte Starbucks– Pumpkin Spice Latte and NEW Pumpkin Spice Chai Tea Latte
Coffee: Local option: Sweet Cakes in Cornelius-Pumpkin cupcake with a pumpkin cream cheese icing (served October-November only) Williams/Sonoma– Pumpkin Spice Cupcake Mix
Snacks: Nuts.com – Spicy Pumpkin Seeds Alternative Baking Company – Phenomenal Pumpkin Spice Cookie
Baked Goods: Nothing Bundt Cakes (Birkdale) in Huntersville – Pumpkin Spice Bundtini Duck Donuts (Rosedale) in Huntersville – Pumpkin Pie Doughnut with either cinnamon sugar or graham cracker crumbles and marshmallow drizzle!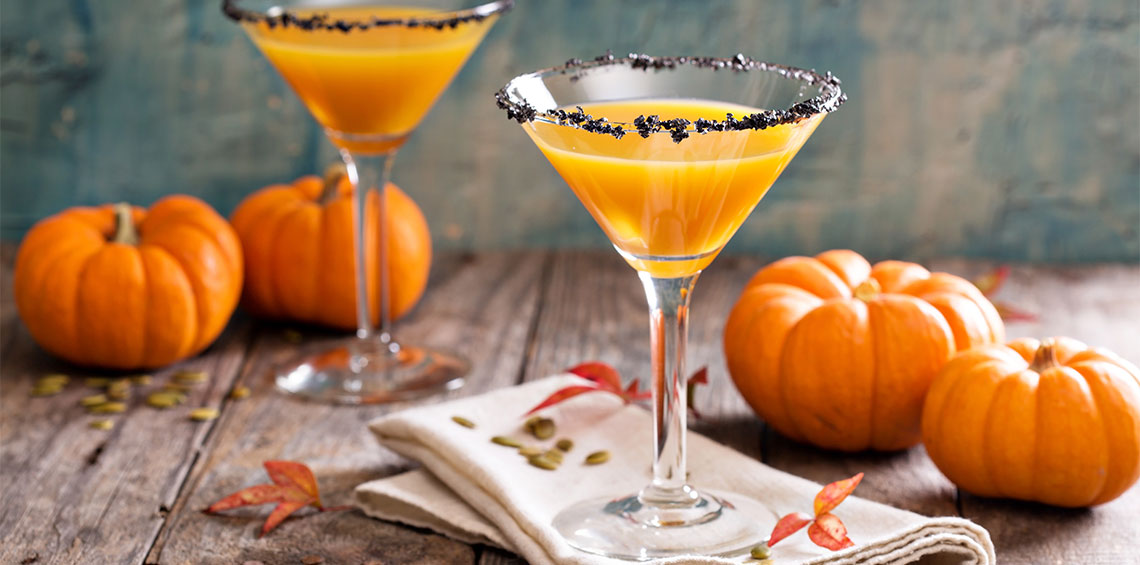 Cocktail:
Pumkin Spice Martini –
1 (1.5 fluid ounce) jigger vanilla flavored vodka (such as Stoli's)
1 (1.5 fluid ounce) jigger Irish cream liqueur (such as Bailey's)
1 (1.5 fluid ounce) jigger pumpkin flavored liqueur (such as Hiram Walker)
1 cup ice cubes
1 pinch ground cinnamon
1 pinch ground nutmeg
Pour the vanilla flavored vodka, Irish cream liqueur, and pumpkin flavored liqueur into a cocktail shaker over ice. Cover, and shake until the outside of the shaker has frosted. Strain into a chilled martini glass, and garnish with a sprinkle of ground cinnamon and ground nutmeg to serve.
Bourbon Pumpkin Smash –
1 oz pumpkin spice syrup
2 oz bourbon
1/4 oz lemon juice
4 oz soda water
Lemon wedges
8 oz pumpkin puree
1 cup water, more as needed
1 cup granulated sugar
1/2 tsp pumpkin pie spice
1/2 Tbsp ground cinnamon
1/2 Tbsp ground ginger
Pinch of ground all spice
1/2 Tbsp brown sugar
To make the simple syrup, add pumpkin puree, water, sugar and pumpkin pie spice to a small saucepan. Bring mixture to a boil over medium-high heat, stirring constantly. Once the syrup is boiling and smooth, remove from heat and cover. Let sit for 15 minutes.
Strain the pumpkin mixture into an airtight container. Let cool completely before making the cocktail. Syrup can be stored in the refrigerator for up to 1 week.
In a small bowl, stir together ingredients for the cinnamon rimming sugar.
Rub the edge of a rocks glass with a lemon wedge.
Pour the rimming sugar into a shallow dish. Rim the rocks glass with sugar. Set aside.
Fill a cocktail shaker with ice. Add pumpkin spice syrup, bourbon and lemon juice for the cocktail. Shake well.
Fill rimmed rocks glass with ice. Strain the cocktail into the glass.
Top with soda water. Give the cocktail one final stir and serve.
---
Dr. Whalen's Halloween Candy Line Up
Dr. Whalen rates Halloween candy and its impact on your teeth on a scale of 1 to 4, with 4 being the worst.
Keep reading to see how your favorite treats stack up!

Chocolate: Winner! Chocoholics Rejoice! Chocolate melts fast and washes off teeth easily. This makes it harder for bacteria to cling to enamel and create cavities.


Pixie Sticks: Although this is pure sugar which can lead to cavities, it won't stick to your teeth like some sweet treats.
But…PROCEED WITH CAUTION!



Lollipops and Hard Candy: These long-standing treats are one of the worst when it comes to teeth. Not only can they chip and break teeth, they can take a long time to dissolve meaning bacteria can feed longer and create those nasty cavities.




Taffy and Caramel: These gooey treats are the worst type of candy for your teeth. They stick to everything including the grooves in your teeth and dental work and devices. Saliva also has a hard time breaking down these candies creating a playground for bacteria to form cavities.
A reminder all you Big and Little Monsters out there: brush your teeth after you've eaten all those delicious Halloween treats! This will keep them clean and healthy and your smile shining bright!!
---
Click on Dracula Below for a Halloween Funny!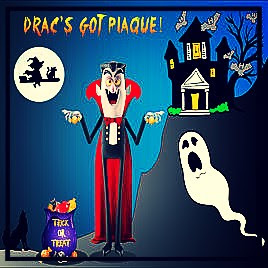 ---